CC Spaulding High School

In Memory
Alonzo Melton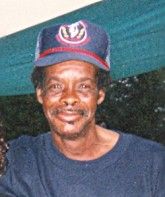 Mr. Alonzo Melton, Sr., age 65 departed this life on Saturday, August 8, 2009.
Funeral 2:00PM Tuesday, Rocky Chapel Baptist Church. Burial, Church Cemetery. Visitation 12-6 PM Monday, William Toney's Funeral Home, Spring Hope.
Survivors: daughter, Sharon Melton Kendrick (William) of Kings Mountain, NC; sons, Alonzo Melton, Jr. (Deborah) of Castalia, NC, Micky Melton (Karen) of Henderson, NC, Jeffery Melton (Sunjai) of Grover, NC; sister, Annie Pearl Perry of Wilson, NC; brothers, Luke Melton (Patricia) and Hubert Melton (Doris) both of Spring Hope, NC; nine grandchildren; two great-grandchildren; a host of aunts, uncles, nieces, nephews, other relatives and friends.